All Seasons Resort
Workers looking for a Home Away from home
If you are in the area working and need a home away from home contact us. We would be happy to provide a comfortable and relaxing place for you to stay at a reasonable price.
The Best Place to Enjoy Nature
Looking for a charming resort to stay in while enjoying the sights and sounds of Gogama, ON? Take a trip to Morin's All Seasons Resort for a wonderful time. Vacationers, hunters, and fishermen book beautiful efficiency units and camping spots in our resort year-round. We want you to be our next guest. We are happy to provide a fun, comfortable, and relaxing place for you to enjoy with your family and friends.
Marina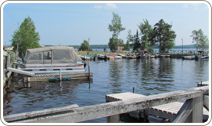 About Our Rooms
All rooms have fully equipped kitchens (pots, pans, fridge, stove and microwave). Full four-piece bathrooms, WIFI, Satellite TV, and phones.
Services:
Laundry facilities
Dumping station
Washrooms/showers
Town water and sewer
30 amp service
Internet hotspot
Sandy beach
Children's playground
Pet friendly
Picnic area
Enjoying Nature With Modernity's Comfort
No other place blends both nature and modernity in such a seamless manner. You can enjoy the sights and sounds of the wilderness all day then step back into the comfort of a clean, fully furnished living space at night. You get the best of both worlds when you choose to stay in our resort.
Enjoy Paradise With Your Family
We provide a rare opportunity for families to experience and appreciate Mother Earth's natural beauty with the convenience and comfort of modern living. Play, relax, and have a wonderful time under the care of our dedicated resort staff. Call (705) 894-2319 if you would like to make a reservation. We look forward to serving you.